Wow Trucy! I bet it's really fun having Mr. Hat around!
Yup! Mr. Hat is really fun to play with.
I suppose now that I'm here, it would be an splendorous time to play some game of sorts between the three of us. A puzzle, perhaps?  
Yea, he is! Mr.Hat's so cool!
You flatter me, Miss. I am but a lone trick within the repertoire of the grand miracles from the Gramarye legacy.
Mr. Hat, you heard the girl, now you know why you're my favorite trick, Tee Hee.
(Sprites cut for the dash

-Minukimod)

Wow, that's soooo cool Trucy!

It's nice to meet you too, Mr. Hat! I'm Pearl Fey!
Miss Fey it is then.
Thaaaaank youu, Pearl! Mr. Hat is one of the best tricks ever!
Oh! Well that's alright. What about you Trucy? Do you know any magic tricks?
You bet! Trucy is a young professional after all! I know lotsa tricks, but I like this one a lot. Mr. Hat you're up! *giggles*
*Swoooooosh*
Greetings, young miss. You may call me Mr. Hat. It's quite a pleasure to meet a friend of Trucy.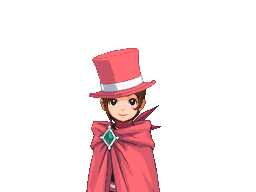 I don't know there's a lot of kids in my school. If she's really that nice I'll ask around and see if she's there. I love making new friends that are my age! Oh, oh, I could show her a new trick I've been working on if I ever meet her, Torkie.
Phoenix Who?  Hm, I don't remember anyone with that name…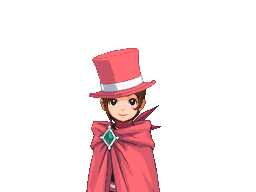 Oh, now Trucy remembers! Daddy called Mr. Attorney Wright, am I right?  * giggles at her own pun* 
-Trucy Gramarye